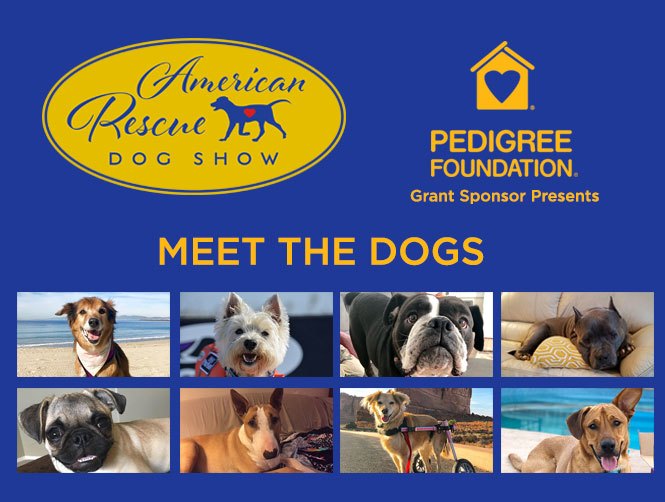 It's time for the 2nd Annual American Rescue Dog Show! Part one with 5 categories is tonight, Sunday February 17 at 8pm. Part two with the remaining 5 categories and the best in rescue winner is Monday February 18 at 8pm.
The dogs compete for best in: Belly Rubs, Couch Potato, Senior, Short and Sweet, Smiling, Snoring, Special Needs, Talking, Underbite, and Wiggle Butt. One of the finalists for Best Belly Rubs, Prince, was adopted from Ventura County Animal Services!
All the participants at the dog show receive swag bags of fabulous goodies. And lots of cash prizes are awarded to the rescues the winning dogs were adopted from, helping everyone win! $250 for each semi-finalist, $5000 for each finalist, and $25,000 for overall best in rescue winner!
I love how all the dogs enjoy the people and attention, so much fun for all involved – lots of smiles & wiggle butts from all.
Thank you to Hallmark Channel, the sponsoring organizations, and all the people who devote time – and the many who dedicate their lives – to saving animals, and helping them on their way to their forever home. And of course thank you to all those who adopt!
Hallmark Channel's first animal show was the Hero Dog Awards launched in 2001, followed by the Kitten Bowl in 2014, and the Cat Bowl in 2019. The first American Rescue Dog Show was in 2018 and is part of their Adoption Ever After corporate pet initiative aimed at raising the profile of shelter pets and encouraging the public to adopt.
(from https://www.hallmarkchannel.com/american-rescue-dog-show/about & https://www.facebook.com/adoptioneverafter/)